Shade #9 Shade #4
Good evening blogbrains. I thought I would begin with a review of one of my new favourite cosmetics ranges - MUA. It was the prices that caught my eye and the quality followed. The lipstick and lipgloss above both come in at just £1 each! Now when I wanted a quick pick me up on my lunch break I thought these were perfect, a little treat. The quality I thought would be like that of a generic Christmas gift set with rubbery lipgloss & slippery lipsticks but these were neither.
The packaging is perfectly substantial, glossy black and silver is nice and doesn't show its budget. These two shades are perfect for creating a natural, glossy day time look. These lips would also work well with heavy eye makeup - keeping lips to a natural, glossy minimum.
This photo shows the lipstick applied on its own. As you can see it has shiny pigmentation which helps the brown colour to refrain from looking too "mumsy" and bland. The shine helps volumise thin lips and create a glamourous finish. the lip colour feels moisturising but it isn't however long wearing. But not to fear there IS a way to get the colour to stick and look better for a good few hours.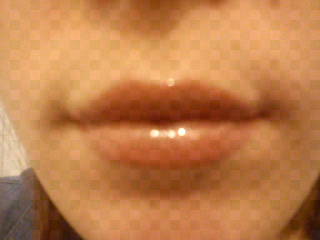 Here is the lipgloss applied over the top of the lipstick. I dabbed it on so as not to disturb the colour underneath which is easily wiped off.
The result is a SUPER huge lip (my lips aren't the fullest) and the gloss is super wearing which helps the lipstick colour stay on a lot longer than it would on it's own. So colour & super gloss which is hardwearing? Winner!
Soon to come will be a review of MUA eye shadow trio in Chocolate Box. Stay tuned and stay beautiful! xx